Viviva Watercolors and Sketchbooks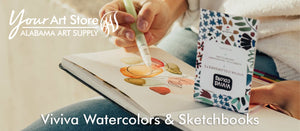 Making your life Easy-Peasy with Travel-Friendly ART SUPPLIES!
Create without mess or stress
Colors so bright, they jump right off the page
Smaller than a cell phone & ultra light
Skillfully crafted by hand with artist-like precision
100% biodegradable and toxin-free
Viviva Products You Can Find Here
Viviva Colorsheets - Watercolor paints in the form of papers! Shockingly vibrant & long lasting.
Viviva Sketchbooks - Cotton & Ivory sketchbooks designed specially for watercolor painting & sketching.
Viviva Watercolors and Sketchbooks
BRAND
SET
SURFACE TYPE
FORM
BRUSH TYPE