Easels & Taborets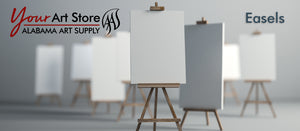 Easels have been in use since the time of the ancient Egyptians. An easel is an upright support used for displaying and/or fixing something resting upon it, at an angle of about 20° to the vertical. In particular, easels are traditionally used by painters to support a painting while they work on it, normally standing up, and are also sometimes used to display finished paintings. Artists' easels are still typically made of wood, in functional designs that have changed little for centuries, or even millennia, though new materials and designs are available. Easels are typically made from wood, aluminum or steel.
There are three common designs for easels:
A-Frame designs are based on three legs. Variations include: crossbars to make the easel more stable; and an independent mechanism to allow for the vertical adjustment of the working plane without sacrificing the stability of the legs of the easel.
H-Frame designs are based on right angles. All posts are generally parallel to each other with the base of the easel being rectangular. The main, front portion of the easel consists of two vertical posts with a horizontal crossbar support, giving the design the general shape of an 'H'. A variation uses additions that allow the easel's angle with respect to the ground to be adjusted.
Multiple purpose designs incorporate improved tripod and H-frame features with extra multiple adjustment capabilities that include finite rotational, horizontal and vertical adjustment of the working plane.
It is most often used to hold up a painter's canvas or large sketchbook while the artist is working, or to hold a completed painting for exhibition.
Here are some common uses for easels:
Studio easels are meant for use in the artist's studio with limited need for the easel to be portable. Studio easels may be simple in design or very complex, including winches, multiple masts and casters. The largest easels are giant easels, with some being able to support panels weighing over 200 pounds and measuring over 7 feet in height.

Giant easels (also called oversize easels) are aptly named because they are designed for artists who work in a large scale. If you frequently work on canvases larger than 8 ft (what a doozy!) then a giant easel is for you. These types of easels are extra strong and sturdy, so they can support the extra weight and size of large canvases. Depending on the specific model, giant easels can handle paintings up to 85" – 120" tall. 

Field easels or plein air easels are meant to be portable for the creation of en plein air work. These easels are usually midsize or small, have telescopic or collapsible legs and are based on the tripod design. French box easels include a compartment in which to store art supplies conveniently along with a handle or straps so that the French box may be carried like a briefcase or a backpack.
Display easels are meant for the display of finished artworks. These easels tend to be very simple in design with less concern for the stability needed by a working artist. Display easels vary in size and sturdiness depending upon the weight and size of the object to be placed on them.
Mini easels are similar in design to display easels but scaled down to accommodate photos or flyers.
Other studio furniture include taborets, stools, and drafting chairs.
Please check out the collection of easels and other studio furniture available on our website. If you cannot find something that you are interested in, please visit or call our retail store - 205-322-4741.
Easels & Taborets