MAYCO GLAZES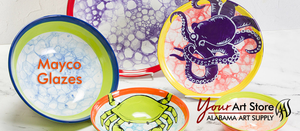 MAYCO GLAZES                     Mayco Website
COLOR YOUR WORLD
Since our company's beginnings in 1954, our mission has been to provide the highest quality products possible at an affordable price. Our products are formulated for a broad range of users- from the needs of the novice, providing the highest degree of success possible with little knowledge to the experienced artist looking for complexity in design.
All of our color products are manufactured at our factory in Hilliard, Ohio – the product labels proudly state "Made in the USA". As a member of ACMI (The Art & Creative Materials Institute), our products are reviewed by certified toxicologists of Duke University for appropriate labeling and undergo rigorous testing to insure consumer health and safety. Most of our products are certified AP Non-Toxic, safe for artists of all ages.
Mayco Colors is one of the world's leading producers of quality ceramics products. Founded in 1954, our company has been serving artists of all levels and backgrounds ever since. We serve a broad community of educators, hobbyists, teachers, and professionals. We listen to our customers and pay attention to the trends to make sure we truly can offer the best products possible. Along with our commitment to product quality, we offer inspiration, education and technical service to our consumers.
MAYCO GLAZES
POTTERY
BRAND
FIRING RANGE
COLOR
GLAZE TYPE