GOLDEN MEDIUMS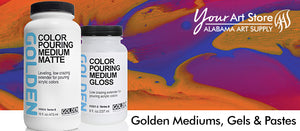 Medium, Gels & Pastes
Gel Mediums offer many ways to build texture. We offer five consistencies from our most viscous Extra Heavy Gel to Soft Gel. Each gel is available in Gloss, Semi-Gloss and Matte finishes. They can be used to create glazes, extend paint and change finishes. Gels are essentially colorless paint, as they utilize the same 100% acrylic polymers as acrylic paint. Gels are also excellent adhesives for collage and mixed media, they dry with excellent flexibility with chemical, water and UV resistance.
Pastes can be used to achieve a variety of effects and expressions. When used in conjunction with acrylic colors they broaden working properties and expand creative possibilities. Unlike gels, pastes are opaque because they contain Marble Dust or other fillers that create a white or clay-tone finish with a variety of textures and properties. Molding Paste can also be used to create foundations for painting either to create texture over a smoother surface, or to smooth out a textured surface.
GAC (short for Golden Artist Colors) Specialty Acrylic Polymers are based on 100% acrylic polymer emulsions. The GACs are useful as mediums or modifiers of acrylic paints. GACs can be used to extend acrylic colors, to regulate transparency, create glazes, increase gloss, reduce viscosity or improve adhesion and film integrity. GAC polymers can also be used for binding pigment solids for various effects and surfaces. Unlike the other GOLDEN Mediums and Gels, GAC Acrylic Polymers have only a minimum amount of thickeners, levelers, defoamers and surfactants to ensure good film formation.
GOLDEN MEDIUMS