ALL PAINT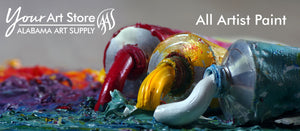 Here is your one-stop spot for all the paint available from Alabama Art Supply. We carry the world's BEST brands including Winsor & Newton, Golden, Liquitex, Grumbacher, Richeson, Holbein, Daniel Smith, Rembrandt, Amsterdam, Williamsburg, Qor, Cobra, Atelier, Van Gogh, Angelus, Jacquard, and more.
Use the Filter feature to find exactly what you are looking for. 
We're still building this section. So, if you can't find something you're looking for, please call our store at 205-322-4741. Our hours are Monday through Saturday, 10 am - 6 pm. 
ALL PAINT
BRAND
COLOR
SET
SURFACE TYPE
FORM