ARTIST PAPER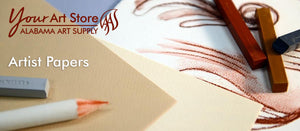 Draw - Paint - Design - Create
No matter what kind of art you make, there's an art paper for you. From acrylic, oil, and watercolor painting to sketching, drawing, and even Manga art, you can find a paper that has the perfect texture, color, and size for your medium. 
This collection is currently under construction. If you cannot find your favorite artist paper, pad or roll here, please call the store at 205-322-4741 and let one of our employees help you personally. Thank you!
Which Paper Should I Use?
To learn more about which paper is best for your project, read the blog on our Framing website from Strathmore. Click here.
ARTIST PAPER
BRAND
COLOR
SURFACE TYPE
FORM
STUDENT