CHROMACRYL ACRYLIC ESSENTIALS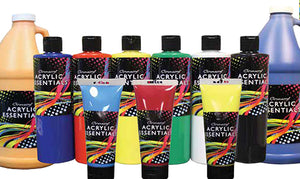 CHROMACRYL ACRYLIC ESSENTIALS
Primarily developed for middle school use, Acrylic
Essentials offer teachers the opportunity to use a quality
acrylic paint at an economical price. A water-based, AP approved
non-toxic paint with excellent coverage, a high
percentage of pigment and good water solubility. It is
flexible, will not flake or become chalky and dries to a brilliant, water resistant silky finish.
CHROMACRYL ACRYLIC ESSENTIALS