REMBRANDT OIL COLOUR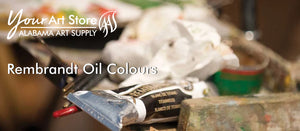 REMBRANDT OIL COLOUR
Master your inspiration.
Rembrandt, a legendary name for a range that is known for its superior and unparalleled quality. It has been developed through pure skill and artistic insight and is based on the best raw materials. This allows Rembrandt products to boast unique characteristics such as maximum fineness, lightfastness and durability.
The choice for the professional artist.
Rembrandt Oil Colour is a unique combination of superior quality and tradition in just one tube. These extra-fine quality oil colours have a uniform viscosity and are crafted with a high concentration of premium-quality pigments that offer the highest degree of lightfastness. A magnificent colour range of 120 colours. With an even distribution across several colour ranges and a good balance between transparent and opaque colours.
The Construction and Finishing of an Oil Painting from Rembrandt Oil Colours.
Rembrandt Oil Color Tube Explanation
REMBRANDT OIL COLOUR