Posca MOP'R Markers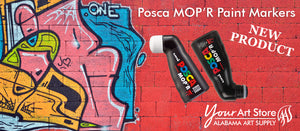 Great New Products for Mural Artists!
The XXL round tip of the POSCA MOP'R (PCM-22) is highly intuitive, ideal for creating large-scale drawings and controlled drips.
Mark in vivid color on practically any surface! The opaque, waterbased paint in Uni Posca Markers dries to a matte finish on both porous and non-porous surfaces. Odorless, fadeproof, and bleedproof, these markers are great for posters, signs, sketching, lettering, graphs, and charts.
Use them on paper, matboard, wood, Styrofoam, metal, plastic, vinyl, glass, and more.
Posca MOP'R Markers