Daniel Smith Watercolor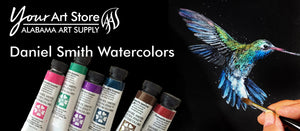 DANIEL SMITH Extra Fine Watercolors made their debut in 1993 announcing:
DANIEL SMITH Finest Watercolors – A classic watercolor of unsurpassed purity and permanence. The vision in the formulation of a new line of watercolors was twofold. First, to produce watercolors that are the best in lightfastness and permanence. Second, to offer a selection of truly unique colors.
"I think it's so important for artists to have access to products that increase their ability to express themselves and create beauty... It has always been about making art. Art is a virtuous endeavor and deserves our respect."  – Dan Smith
Daniel Smith Watercolor