Winsor & Newton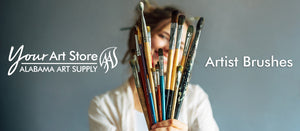 We carry over 2000 different types and sizes of brushes for watercolor, acrylic, oil, crafts, pottery, and more. These brushes include the finest Winsor & Newton Series 7 brushes, natural and synthetic bristle brushes, as well as brushes you don't mind letting your kids use paint. We also have brush classpacks that are GREAT for art classrooms, workshops, summer camps, and group art projects.
Click here to read the article about how to select your brushes.
Click here to read about how to care for your brushes. 
Use the Filter feature to find exactly what you are looking for. 
We're still building this section. So, if you can't find something you're looking for, please call our store at 205-322-4741. Our hours are Monday through Saturday, 10 am - 6 pm. 
Ken's Club Members get 50% OFF Artist Brushes with a retail price of $7 or more in-store EVERY DAY! Click here to join Ken's Club.
ALL BRUSHES
BRAND
FORM
MORRIS
BRUSH SHAPE
BRUSH TYPE