BROWN-EARTH-BUFF COLORS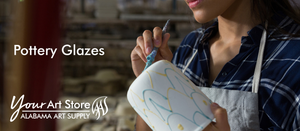 ALL GLAZES
We carry a MASSIVE selection - OVER 500! - of glazes and underglazes from Amaco, Spectrum, and Mayco. Finish your ceramic pieces with glazes or underglazes: gloss or matte, detailed draftsmanship, fluid and easy, high or low fire. We have the right glaze for your project. We also have Glaze classpacks that are GREAT for art classrooms, workshops, summer camps, and group art projects.
Use the Filter feature to find the brand, color or firing range that you are looking for.
We're still building this section. So, if you can't find something you're looking for, please call our store at 205-322-4741. Our hours are Monday through Saturday, 10 am - 6 pm. 
Ken's Club Members get 15% OFF Glazes in-store EVERY DAY! Click here to join Ken's Club.
ALL GLAZES
POTTERY
BRAND
FIRING RANGE
COLOR
GLAZE TYPE